Lightcounting predicts the 800G module market
Alibaba, Amazon, Facebook, Google and Microsoft will spend $3 billion on optical modules by 2026, up from $1.4 billion last year. By 2026, 800G modules will become the main force of optical module sales. At that time, Google will also begin deploying 1.6T optical modules, and CPO devices will gradually replace pluggable optical modules.
Lightcounting points out that the growth of data traffic, such as AI applications, the unexpected bandwidth demands of data centers, and the efforts of optical module manufacturers are all driving the 800G application. At this year's OFC, Google's latest traffic data showed a 40 percent year-on-year increase in regular server traffic and a 55 to 60 percent increase in data traffic for applications such as machine learning. What's more, AI traffic already accounts for more than 50% of Google's total data traffic, which means data center traffic will grow even faster in the future. This rapid growth in data also explains why companies like Amazon and Microsoft are now rushing to deploy the 400ZR module.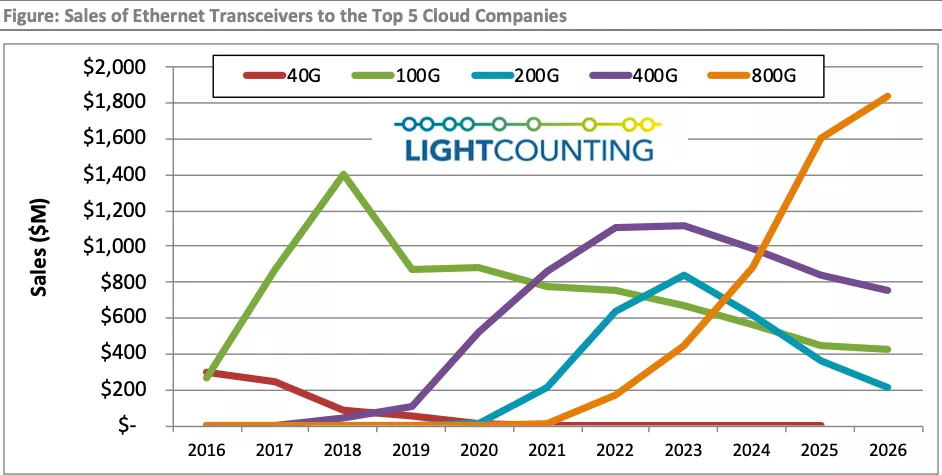 In the optical module market, the prediction of Lightcounting is widely cited. Generally, market research firms base their forecasts on their own models and historical data. This model is based either on the development of switch chips or on the growth of data traffic.
Lightcounting is a company that constantly revises its models as reality evolves. This time around, they're raising their forecast for optical module demand based on Google's latest traffic projections, and given that it takes a decade for a new generation rate to become mainstream, LightCounting is a bit aggressive.